227th Avenue, Montgomery Road to Dove Valley Road
Project #: TT0657
Project Description
The Maricopa County Department of Transportation (MCDOT) will be making roadway improvements, including paving, on 227th Avenue from Montgomery Road to Dove Valley Road, and on Dove Valley Rd from 227th Avenue to the west approximately 1400'. The improvements aim to diminish dust.
Project Overview
The paved roadway will have 12-foot lanes and 10-foot graded shoulders, with one lane of travel in each direction
Concrete culverts and low water crossings at washes
Posted 25 mph speed limit in the area
For information about Title VI, please visit our information page.
Budget Last Updated: 9/6/2022

| Phase | FY23 | FY24 | FY25 | FY26 | FY27 | Total Forecasted Budget |
| --- | --- | --- | --- | --- | --- | --- |
| Scoping | $20,000 | $0 | $0 | $0 | $0 | $20,000 |
| Design | $165,000 | $588,000 | $0 | $0 | $0 | $753,000 |
| Construction | $0 | $270,000 | $0 | $0 | $0 | $270,000 |
| Totals | | | | | | |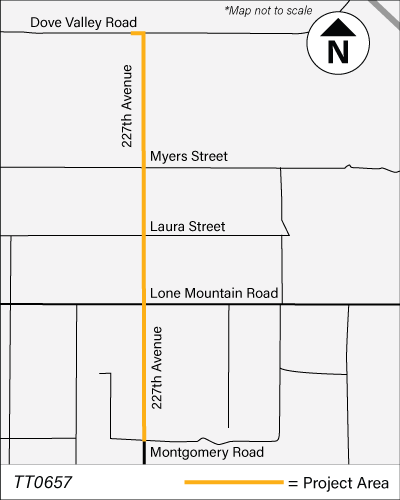 Project Info
Scoping Schedule: Spring 2023
Design Schedule:
Construction Schedule:
Project Phase
Current Phase: Scoping