Litchfield Road: Northern Parkway to Peoria Avenue
Project #: TT0571
Project Description
The project is studying alternatives to widen Litchfield Road between Northern Parkway and Peoria Avenue to increase capacity on the road. Future traffic projections show that traffic is expected to more than double on the roadway over the next 20 years.
There are no plans at this time to advance this project beyond the scoping phase.
For information about Title VI, please visit our information page.
Budget Last Updated:

| Phase | FY23 | FY24 | FY25 | FY26 | FY27 | Total Forecasted Budget |
| --- | --- | --- | --- | --- | --- | --- |
| Scoping | $0 | $0 | $0 | $0 | $0 | $0 |
| Design | $0 | $0 | $0 | $0 | $0 | $0 |
| Construction | $0 | $0 | $0 | $0 | $0 | $0 |
| Totals | | | | | | |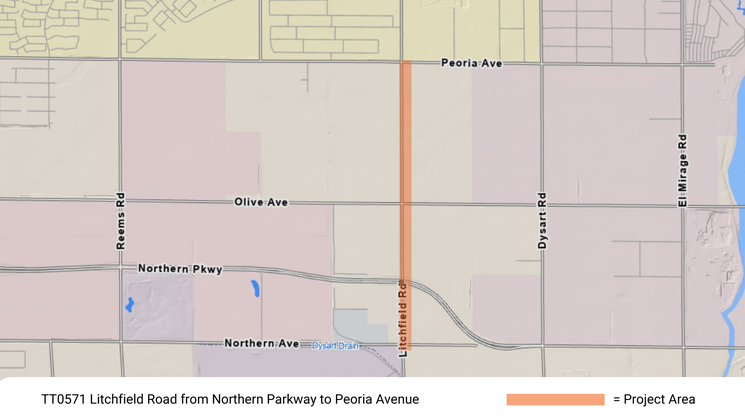 Project Info
Scoping Schedule:
Design Schedule:
Construction Schedule:
Project Phase
Current Phase: Construction