Broadway Road: 75th Avenue to 51st Avenue
Project #: TT0575
Project Description
Traffic projections for Broadway Road between 75th Avenue and 51st Avenue indicate a significant increase in the number of vehicles on the roadway over the next five years.
This project is studying alternatives to widen the roadway to add additional travel lanes to accommodate this increase in traffic.
There are currently no plans to advance this project beyond the scoping phase.
NOTE: The scoping phase was completed and approved 4/5/2022.
For information about Title VI, please visit our information page.
Budget Last Updated: 9/6/2022

| Phase | FY23 | FY24 | FY25 | FY26 | FY27 | Total Forecasted Budget |
| --- | --- | --- | --- | --- | --- | --- |
| Scoping | $0 | $0 | $0 | $0 | $0 | $0 |
| Design | $0 | $0 | $0 | $830,000 | $725,000 | $1,555,000 |
| Construction | $0 | $0 | $0 | $50,000 | $500,000 | $550,000 |
| Totals | | | | | | |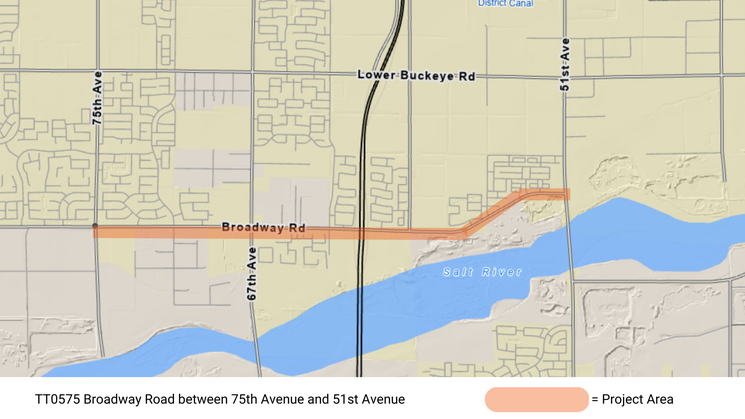 Project Info
Scoping Schedule: April 2022
Design Schedule: Not Planned
Construction Schedule: Not Planned
Project Phase
Current Phase: Scoping